Barridale 9 Piece Dining Suite
-

Matching product range available

Looking to complement this design with another? We've planned ahead for you. We offer a matching product range under the same name - give it a search and start mixing and matching!

+

Suitable for Outdoors

+

Western Outdoor World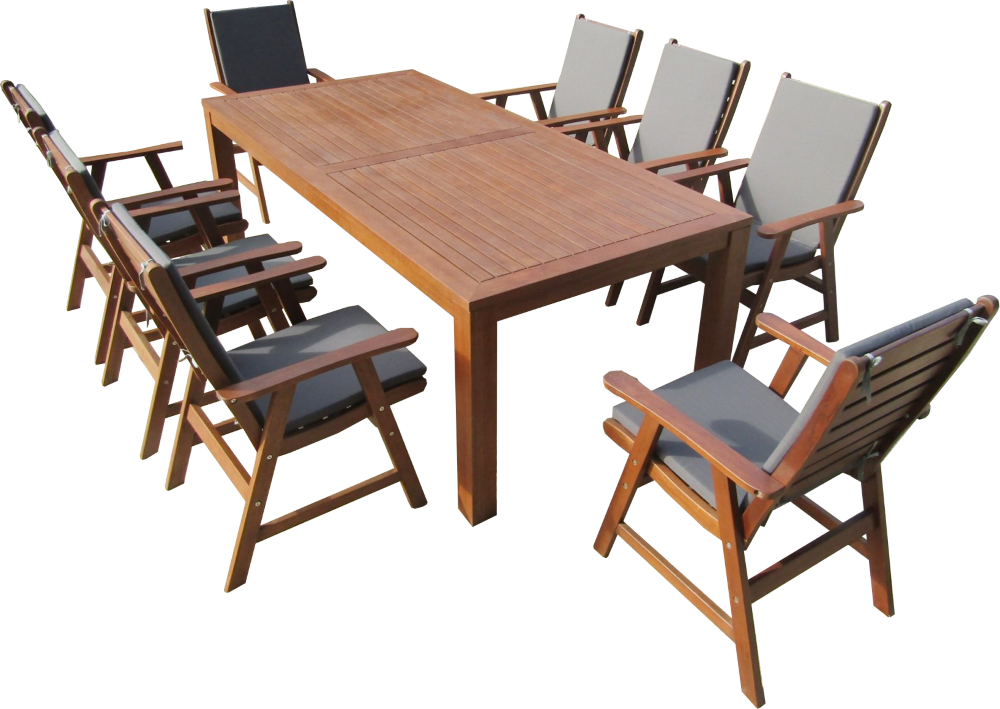 More Information:
-

Matching product range available

Looking to complement this design with another? We've planned ahead for you. We offer a matching product range under the same name - give it a search and start mixing and matching!

+

Suitable for Outdoors

+

Western Outdoor World
I wanted to choose an electric adjusting Bed have spent the last 2 hours visiting a lot of useless web sites (via google search) that gave very little information -not enough to pay them a visit (no prices, and very little details ) then comfort style come up on my google search . Google was saving best for last .
- Ronald R
Good variety of furniture. Great staff.
- Garry Williams
Specifications
Delivery & Payment
Care & Assembly
Package Includes
2200mm (W) x 1045mm (D) x 755mm (H)
620mm (W) x 690mm (D) x 975mm (H)
Home Delivery Available
We offer delivery of your purchases right to your doorstep. Delivery fees may apply so please contact your local store for more information.
Click and Collect
We offer free click and collect at your nearest store. Simply order your products online and your local store will contact you regarding collection details and dates.
Payment
ComfortStyle stores accept cash, Visa, Mastercard and EFTPOS as forms of payment in store for all of our products! Additional in-store payment methods include direct deposit (via bank transfer), lay-by options, interest free options, Certegy Ezi-Pay, and more. Contact your local store for full details.
Interest Free Finance Available
Interest Free Finance is available at your local ComfortStyle Store today! We accept Latitude Finance cards including GEM Visa, GO Mastercard and others. Contact store for full details.
Humm Available
Shop now and pay over time with Humm! Humm is a smarter way to pay and offers 5 or 10 easy interest free installments. Sign up in 60 seconds with quick approval! Available on purchases between $1 and $2000.
How does it work?

Select Humm as your payment method

Get instant online approval

Take it home & pay over a few equal payments
Care instructions
To keep your timber furniture looking good avoid direct contact with heat. Use tablecloths, placemats, coasters, and/or other heat protectant mats to avoid both moisture and heat damage.

Steer clear of scouring pads or abrasive cleaners as these may leave scratches or ruin the timber finish. Use furniture polish sparingly. To clean use a damp, clean cloth with warm soapy water and gentle sweeping motions.
You may also like:

Loading Products ..